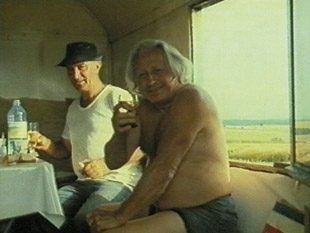 80cm 5t
Eighty Centimeters Five Tons
108 minutes, 16 mm, colour, 1:1,38
For meditation
Karl Prantl, the main character in the film, is one of the leading and dominant figures of Austrian art. As a sculptor – as someone who shapes stone – he has produced an ouevre of rare consistency and coherence, born out of an awareness of the fundamental concerns and utterances of man.
The act of meditation turns into action, the cultic endeavour becomes an end in itself, the ritual is reduced to its most concise form. The film itself does not try to illustrate or to portray the person or the artist's works; it tries to give deeper impressions of motives and feelings which could perhaps be everyone's feelings.
It seduces one to look and listen to everyday events which are probably more visionary than extraordinary ones.
It is the result of a 3-year dialogue between sculpture and film, a film about creativity, intuition and resistance. Or about love, nature and death.
Michael Pilz, Vienna, April 1989
»

Additional articles, reviews & photo galleries (pdf, 1,6Mb)
Original title 80cm 5t (Eighty Centimeters Five Tons)
English title 80cm 5t
Produced by Michael Pilz
Concept and realization by Michael Pilz
Cinematography by Michael Pilz
Original sound by Michael Pilz
Edited by Michael Pilz
Austria 1989
Original dialogue Austrian, German, Japanese, Italian
English subtitles
First public screening 18 October 1989, Austrian Filmdays, Wels/Austria
Festivals Wels (AT), Nyon (CH), Vienna (AT), Riga (LV)
Copyright by Michael Pilz Film
A-1180 Vienna/Austria
Teschnergasse 37
Phone +43.699.11336581