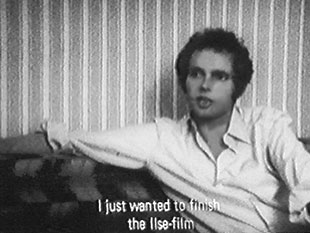 Slow Summer
Langsamer Sommer
84 minutes, 35 mm, b/w, 1:1,33
(…) A photographer and a model play important roles in the story, are these people even worth talking about? Having worked as a photographer in that milieu for a long time myself I admit that most of them are the most boring – and sometimes the most repulsive – people I've met. Unfortunately recent folklore has made pop heroes out of them, super-cool cynical ignorance has been sold as something to be imitated and admired – see the sixties film BLOW UP for example – and a drop of personal shame for my own involvement in that world has long made me feel I should do what I can to correct this silly myth (…).
We've produced a hand-crafted personal little film. Its short-comings are more to be blamed on our ignorance or inexperience than on lack of money. Maybe the people who see it will like it. Anyway the work was a lot of fun, that's already a lot to say these days.
John Cook, Vienna, 1975
A Film saturated with the beautiful juice of a life lived and experienced. Living in poverty, lacking money, reducing organizational resources, minimizing the crew, and absence of technical refinement: by return, all this turns out to produce variety, abundance, space to breathe freely, which is missing from the majority of slick, styled, stiffly perfect cinema products. John Cook films as a strong, gentle, uncorrupted personality in a first-person and intimate-plural mode. I filmed with 16mm black and white material, I played myself and we played ourselves; relaxed and with an uncanny instinct I mixed and we mixed tokens of autobiography and fiction, of document and quotation. Dreaming away and curious body search of a stream of life. Film privé, charming poem about personal relationships, and amateur cinema in the intense sense of the word: Cinema turned into kinetics by lovers (amateurs) of films, lovers of being in the world.
Harry Tomicek
Österreichisches Filmmuseum (Austrian Film Museum)
Movie Guide, December 14, 2001
John Cook (1935–2001)
»

Additional articles, reviews & photo galleries (pdf, 464Kb)
Original title Langsamer Sommer
English title Slow Summer
Film by John Cook
Produced by Michael Pilz
Concept and realization by John Cook in collaboration with Michael Pilz, Helmut Boselmann, Susanne Schedt
Cinematography (Super8) by John Cook, Michael Pilz, Helmut Boselmann, Susanne Schedt, a.o.
Original sound by John Cook, Michael Pilz, Helmut Boselmann, Susanne Schedt
Music by Jimmy Cogan
Piano by Mathias Rüegg
Edited by John Cook, Susanne Schedt
Cast John Cook, Helmut Boselmann, Eva Grimm, Michael Pilz, Hilde Pilz, Günter Duda, Franz Madl, Ernst Kloss, Elisabeth Boselmann, Marieli Fröhlich, Miriam and Katharina Pilz
Austria 1976
Original dialogues German
English subtitles
First public screening 23 April, 1976, Austrian Filmmuseum Vienna
Festivals Cannes (FR), Carthage (TN), Vienna (AT), Düsseldorf (DE), Toronto (CA), 35th Summer Film School Uherské Hradiště (CZ), a.o.
Copyright by Michael Pilz Film
A-1180 Vienna/Austria
Teschnergasse 37
Phone +43.699.11336581