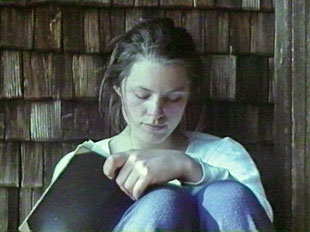 I'd Like To Have Gone Somewhere Else
Irgendwo hätt' ich sonst hingewollt
51 minutes, 16 mm, 1:1,38, colour
If, for once, we leave aside the illusionist principle of films, examination of the characteristics of the material becomes the focus of attention. Aside from the conventional area of film products fashioned primarily under economic aspects, a wide field opens up whose aesthetic experience is largely unknown to a wider audience. Whether the reasons for this can be attributed to the sales structures or the leading market position of a Hollywood-style film industry remains to be seen, the fact remains, however, that the medium of film is not entirely accepted or widely present as a form of art. This may come as a surprise because the history of cinema has always been co-written by film artists who, standing apart from the world of dream factories, focused on the nature and the material characteristics of the medium in order to explore new fields of audiovisual expression.
Picking up the thread of this tradition of research, out of the need to create awareness, and, finally, out of curiosity as to the possibilities of the medium of film, the idea for our joint film project was born. "At each touch I risk my life", Paul Cezanne.
Jean Christopher Burger, Andreas Fröba, Margarethe Fuchs, Bernd Hartung, Gabriele Hochleitner, Regina Höllbacher, Vanessa van Houten, Mathilde Kohl, "What happens in-between images?" Draft for a cinematic instant composition for three film cameras and two DAT recorders. Excerpt from the students' concept,
Köln, Dortmund, March 1995
In the mid-nineties, I taught experimental filmmaking at the Department of Design of the University of Applied Sciences in Dortmund, Germany. The class consisted of no more than eight students, all experienced in the use of photo and film equipment and keen to see what the exchange between us would bring. To me, those were wonderful encounters.
We spent our penultimate block seminar at a mountain hut in the Salzburg province. For a period of 10 days, we engaged in explorations and captured footage for a collective film. Each of us was free to make use of the film equipment we had brought along to produce the film footage (6 minutes) allotted to each participant. We went through an eventful, intricate, arduous and also wonderful process and wound up with an exciting film without sound, a reflection of individual interests and ventures relating to our personal subconscious, our own history, and the remarkable mountain scenery.
Michael Pilz, Vienna, August 1995
»

Additional articles, reviews & photo galleries (pdf, 1,6Mb)
Original title Irgendwo hätt' ich sonst hingewollt
English title I'd Like To Have Gone Somewhere Else
Produced by Jean Christopher Burger, Andreas Fröba, Margarethe Fuchs, Bernd Hartung, Gabriele Hochleitner, Regina Höllbacher, Vanessa van Houten, Mathilde Kohl, Michael Pilz
Concept and realization by Jean Christopher Burger, Andreas Fröba, Margarethe Fuchs, Bernd Hartung, Gabriele Hochleitner, Regina Höllbacher, Vanessa van Houten, Mathilde Kohl, Michael Pilz
Cinematography by Jean Christopher Burger, Andreas Fröba, Margarethe Fuchs, Bernd Hartung, Gabriele Hochleitner, Regina Höllbacher, Vanessa van Houten, Mathilde Kohl, Michael Pilz
Original sound by Jean Christopher Burger, Andreas Fröba, Margarethe Fuchs, Bernd Hartung, Gabriele Hochleitner, Regina Höllbacher, Vanessa van Houten, Mathilde Kohl, Michael Pilz
Edited by Michael Pilz
Germany/Austria 1995
First public screening 8 December 1995, Festival of Austrian Films, Salzburg
Festivals Salzburg (AT), New York (US), Ramsau am Dachstein (AT)
Copyright by Michael Pilz Film
A-1180 Vienna/Austria
Teschnergasse 37
Phone +43.699.11336581