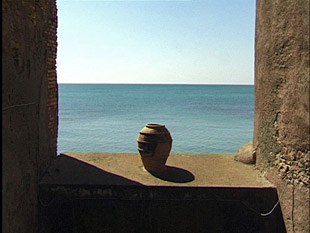 Windows, Dogs And Horses
DCP, 40 minutes, 4:3, colour
Film for meditation
The camera draws near to a white curtain, pauses, and caresses its translucent texture while performing a dance accompanied by oriental music. The curtain is half open, letting a ray of light sift through, but the spectator will never see what it conceals. This first scene is a perfect illustration of the enigmatic and irresolute atmosphere created by Michael Pilz. The film depicts the lacunal traces of a voyage while avoiding all narrative patterns. In a jungle, two dogs are watching something off–camera, visibly captivated by an event that remains unseen by the spectator, who only hears a dull, repetitive sound. After a while, one of the dogs approaches a pond that he examines attentively, waiting. Finally, he plunges into the water and appeared to search something in it. The object of his quest will never be revealed. The human action depicted in the film contains a similar mystery: a group of tourists stop on the verge of a dusty road, unpacking their cameras. Looking straight ahead, they watch out for something in distance that will never happen. In this fashion, we witness a stream of minimal riddles in which an image is being composed: instead of being set, its meaning is left open. At first, lacking the usual bearings that enable him to comprehend a story, the spectator feels disoriented. However, he rapidly becomes mesmerised by these shots that revel the fleetlingness of a moment. By capturing "non–events", Windows, Dogs And Horses invites us to access the absolute instant of the detail.
Corinne Martin (translation by Lia Lambert),
Visions du Réel, Festival International du Cinéma,
Nyon, Switzerland, 24–30 April, 2006,
programme catalogue, "Tendances"
(…) Michael Pilz' inner retrospective journey Windows, Dogs And Horses emerged as the festival's most deeply moving film.
Christoph Huber,
Diagonale/Graz: Meager debate/Otherwise, the festival of Austrian films was only in part convincing —
at least on the cinema screen.
Vienna, Die Presse, March 27, 2006
Original title Windows, Dogs And Horses
English title Windows, Dogs And Horses
Produced by Michael Pilz
Shooting time 1994–2003
Shooting locations Vienna, Changanacherry/Southern India, Karlstein/Lower Austria, Dead Mountain Region/Styria, Glenlivet/Zimbabwe, Manavget/Turkey, Santa Maria in Cosmedin/Rome, Guanabo/Cuba, Santa Severa/Italy
Realized by Michael Pilz
Cinematography by Michael Pilz
Original sound and mix by Michael Pilz
Edited by Michael Pilz
Featuring Inhabitants of Changanacherry/Southern India, Andreas Ortag, Felix Ortag, Walpurga Ortag, Werner Puntigam, Klaus Hollinetz, Gabriele Hollinetz, Ines Priemetshofer, Rosemarie Pilz, Michael Pilz, Andrea Gessert, a.o.
Austria 1993/2005
Original language German
English subtitles
Financial support

First public screening 27 January, 2006, International Filmfestival Rotterdam
Festivals, specials Rotterdam (NL), Graz (AT), Nyon (FR), Esfahan (IR), Jihlava (CZ), Okto-TV, Vienna (AT)
Copyright by Michael Pilz Film
A-1180 Vienna/Austria
Teschnergasse 37
Phone +43.699.11336581