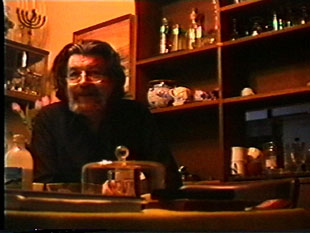 Für Erwin Puls
Video, 19 minutes
Filmed on January 20, 1988, edited on January 8, 2009.
We often met for coffee and cigarettes. I was preparing to film Feldberg at the time and Erwin wanted to learn how to make films. One scene shows us meeting Erwin's mother Gertrude and you'll also see me playing with a handmade pistol, which Erwin's and Tatjana's son Philipp always played with when he watched crime movies on TV. As far as I know, this video is a rare document of Erwin Puls.
Erwin died on January 2, 2003.
Michael Pilz
Original title Für Erwin Puls
Produced by Michael Pilz
Shooting time January 20, 1988
Shooting location Wien 4., Schelleingasse 8
Cinematography by Michael Pilz
Original Sound by Michael Pilz
Edited by Michael Pilz
Austria 2009
First screening Filmarchiv Austria/Kunsthalle Wien, Metrokino Wien, 22 January, 2009
Copyright by Michael Pilz Film
A-1180 Vienna/Austria
Teschnergasse 37
Phone +43.699.11336581