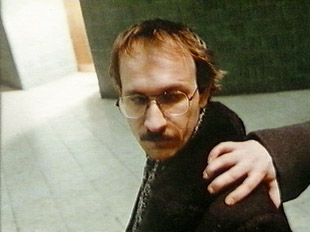 Noah Delta II
108 minutes, 16 mm, colour, 1:1,38
The aim is not the aim …
(…) Nevertheless Noah Delta II is a work of aesthetic distinction. Even if the spectator is not riveted by the development of the plot which refuses to develop into either a love story or a whodunit he still finds himself eagerly awaiting each new camera angle. The images seem to succeed effortlessly and their meaning is announced and renounced in the same breath. Whether Pilz works with unusual detailing or tilts the visual axis, whether he uses grainy film or emphasises the dot matrix of a television screen, whether a wide angle lense makes the horizon look curved or distorts the vanishing line – one never tires of watching. This testifies to the art of a director who has dared to expand the techniques of experimental film into a full-length feature film. And the ark? You can only build this with your own eyes.
Karsten Visarius,
"An ark in a flood of pictures",
Frankfurter Allgemeine Zeitung,
23 January 1986
»

Additional articles, reviews & photo galleries (pdf, 3,1Mb)
» Interview, 20 February, 1986, Berlin Filmfestival

Original title Noah Delta II
English title Noah Delta II
Produced by Kleines Fernsehspiel, ZDF, Zweites Deutsches Fernsehen, Mainz/Germany, United Filmfederation/Vienna and Balazs Bela Studio, Mafilm/Budapest
Written and directed by Michael Pilz
Cinematography by Sandor Kardos
Music by Masik Janos Original sound by Sipos Istvan Edited by Michael Pilz (Losoncy Teri)
Cast Grandpierre Attila, Beate Pilz, Lengyel Zsolt, Tolvaly Ferenz, Fekete Pal, a.o.
Austria 1984/1985
English subtitles
First public screening on TV 22 January 1985, Kleines Fernsehspiel, ZDF/Germany
Festivals Rotterdam (NL), Berlin (DE), Vienna (AT), Figueira da Foz (PT), a.o.
Copyright by ZDF & Michael Pilz Film
A-1180 Vienna/Austria
Teschnergasse 37
Phone +43.699.11336581