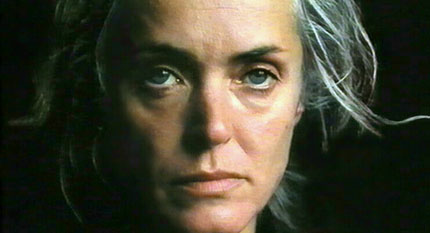 Feldberg
115 minutes, 35 mm, colour, 1:1,85
Soon there will be four or five hundred theaters – let us hope – where the usual events of life will be acted out considerably better than in reality, and thus no one will go to the trouble any longer of wanting to experience things himself.
Villiers de L'Isle-Adam, 1883
Cinequest 1991 closes with perhaps its most extraordinary work, Feldberg, a film of exceptional beauty and sensitivity. Instead of manipulating us into an emotional state, Pilz brings us an opportunity to authentically experience human relations and our natural surroundings and thus to discover genuine feeling.
In this evocative work, we hear and see the interactions of a man and a woman in a pristine forest. We gain a sense of intimacy with them and nature. Suddenly we leave the worries of our scattered lives and begin to remember the primal elements of existence: earth, wind, fire, water, people, creation. This epiphanic process demands a patience and an almost meditative state, but it is so worth the effort – just as a journey a mountain meadow requires some effort in order to find its treasures.
We leave the traditions of narrative for a more open approach to cinema. There are suggestions and onsets of a storyline, but almost everything remains a mystery for our encountering. This is a film that will allow you to observe and exist, without anxiety, without demands, and it allows you a rare glimpse into the life of things.
The Second Annual San Jose Film Festival,
California,
13 October 1991
»

Additional articles, reviews & photo galleries (pdf, 204Kb)
Original title Feldberg
English title Feldberg
Produced by Michael Pilz
Coproduced by Veit Heiduschka
Script and realization by Michael Pilz
Cinematography by Peter Schreiner
Original sound by Reinhold Kaiser
Music by Janos
Sound mix by Sipos Istvan (Mafilm Budapest)
Edited by Michael Pilz and Hubert Canaval
Austria 1990
First public screening 16 October 1990, Austrian Filmdays, Wels/Austria
Festivals Wels (AT), Vienna (AT), Rotterdam (NL), Athens (US), Figueira da Foz (PT), San Jose (US), Riga (LV)
Copyright by Michael Pilz Film
A-1180 Vienna/Austria
Teschnergasse 37
Phone +43.699.11336581