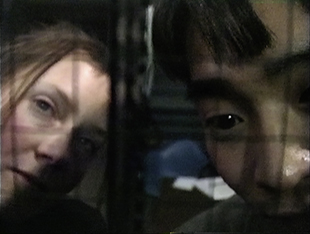 With Love – Volume One 1987–1996
DCP, 102 minutes, 4:3, colour, stereo
Dear Michael, to me as a viewer, With Love–Volume One 1987–1996 is a kind of act of liberation, evokes in me a heart-warming assurance through a review that is more a realization. In my mind, that's a highly rare combination. Time becomes insignificant, fizzles down to a tiny speck, which then expands and forms a circle that encompasses Everything.
Again and again, the beautiful thing about your films is, of course, their gift character. So, this time around, the title gets to the heart of things.
In your films, you throw yourself away on viewers, letting them take part in your exploration of the world, its contemplation, your hearing, seeing…
And you are – at least cinematically – a master in dealing with pain (in all of its forms): You cast a spell on it and turn it into wonderment about immediate perception.
Peter Schreiner, filmmaker, Vienna, November 3, 2019
To this day, a work in progress called Curtains> can be found on the extensive website of Austrian maverick master Michael Pilz. The idea was to edit all the curtains shots he ever made strictly chronological order – as a pars pro toto representation of his oeuvre and philosophy of cinema.
With Love–Volume One 1987–1996 developed from this project. How close it is to the original intentions behind Curtains, only Pilz can say. But considering that Pilz's whole life and art is about self-development, discovery and realization, every film he makes is in its own way another sum total. Each film is a debut as well as a cenotaph for what was so far; in loving memory, for a morrow of love. This development demands encounters with other people; that's the only way to grow. Come along and meet Pilz – and yourself.
49th International Film Festival Rotterdam, 22 January–2 February, 2020, catalogue, page 234
The external image can be a dense curtain of snowflakes that spreads far and wide outside a window; or a small child painting on a fogged glass pane with its fingertips; it can be a fleeting smile, a passing landscape, a rattling projector, a kitchen conversation with friends or naked feet walking in the morning light. All of the above is video and audio footage shot by Michael Pilz between 1987 and 1996, which shows him to be an obsessive collector of such material. Friends and loved ones are the protagonists, from Vienna all the way to the Anthology Film Archive New York. With Love – Volume One 1987–1996 is a film about encounters and time. Time spent together and time past, which is covered by a veil of oblivion.
Pilz' film lifts this veil, shows vivid experiences, people that come alive, shows movements, gestures, and glances that he has captured with his camera and his heart. All these images not only appear to reveal the true nature of his subjects, but also the observer behind the camera himself and his emotional approach to them. A radical personal experience of seeing, communicated in the form of a cinematic love letter – to life and to those who have shared part of the journey.
Michelle Koch, Diagonale, Vienna, March, 2020
Original title With Love – Volume One 1987–1996
Featuring Friends and friends of friends
Produced by Michael Pilz
Shooting time 1987–1996
Shooting locations Vienna, Gmuend, Salzburg, Karlstein, the Netherlands, Budapest, Paris, New York City, Jurmala/Latvia, Czech Republic
Cinematography by Michael Pilz
Original sound by Michael Pilz
Edited by Michael Pilz
Music by Jon Hassell, Masik Janos, Tibor Szemzö
Language English, German, Latvian
Some English subtitles
Austria 1987/2020
Financial support

First public screening 27 January, 2020, International Filmfestival Rotterdam
Copyright by Michael Pilz Film
A-1180 Vienna/Austria
Teschnergasse 37
Phone +43.699.11336581