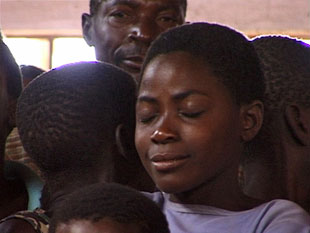 Across The River
151 minutes, BetaSP, 4:3, colour, PAL
in memory of
Giotto di Bondone
1267–1337 AC
Across the River is a documentary on the cultural ex-change that took place when the Tonga music ensemble Simonga and the people living in the village of Siachilaba near Zimbabwe's Lake Kariba met with a group of Austrian musicians and composers. It highlights the cultural strength and resilience of the Tonga people.
Peter Kuthan,
Austrian Zimbabwe Friendship Association,
December 2004
(…) Pilz' approach avoids the ethnographic tradition of Jean Rouch. He observes and allows events to happen. He does not intervene, but also never denies his presence. He seems to have filmed permanently, even if nothing apparently happened. In this way, he recorded the preamble to events while they were still barely perceptible. A man nods softly with his head. He hums a little. As if driven by a secret law of nature, a little later the whole village is singing and dancing. But Pilz saw how it started.
Gertjan Zuilhof,
34th International Film Festival Rotterdam, catalogue,
January 2005
»

Additional articles, reviews & photo galleries (pdf, 1,1Mb)
Original title Across The River
English title Across The River
Produced by Michael Pilz
Realized by Michael Pilz
Cinematography by Michael Pilz
Original sound by Michael Pilz
Music by Tonga ensemble Simonga, Lukas Ligeti, Peter Androsch, Klaus Hollinetz, Werner Puntigam, Keith Goddard
Austria 1997/2004
Language of dialogues Tonga, Shona, English, German
English subtitles (intentionally German dialogues only)
First public screening 30 January 2005, International Filmfestival Rotterdam
Festivals Rotterdam (NL), Siachilaba (ZW), Santa Cruz de la Sierra (BO), Kerala (IN), Paris (FR)
Copyright by Michael Pilz Film
A-1180 Vienna/Austria
Teschnergasse 37
Phone +43.699.11336581