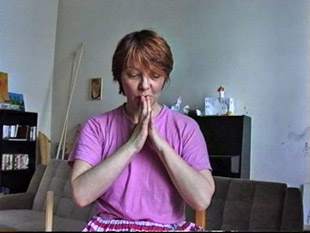 28 April 1995 Aus Liebe / For Love
180 minutes, BetaSP, 4:3, colour, PAL
I have known Brigitte since about 1974. We became good friends. I am familiar with the story of her life including, of course, her marriage with a member of the Spanish military in the late sixties. She has told me about it often and in great detail and has written a few books about this period of her life (most notably "Why is there Salt in the Sea?" University of Nebraska Press, 1988).
Years went by and we lost sight of each other. In the early nineties, she lived in southern Bohemia (not far from the town where I grew up). I wanted to visit her but it just never happened. Only after she had moved to Vienna, we began to meet again more often and also talked about our film plans. She told me about a long trip she had taken to Colombia and Madrid and that she had tried to no avail to get Spanish broadcasters to show the story of her unhappy marriage on TV. They didn't believe it was true and alleged that she had made it up because she was a writer.
A short time later, we made the video recordings. In Spanish and German. For years, they just lay on my shelves. But I always remembered the intense expressiveness of Brigitte's words and gestures. And after the surprising reconciliation with Miguel in 2004, the obvious thing to do was to pick up the recordings again. Nothing was changed. Even the fade ins and outs I had inserted during filming remained the same.
At first, I thought of a title in the vein of "I've been through the experience", or "I like your silence" (quote from a Spanish poem), or simply "Luboka" (the Bohemian mountain Brigitte talks about; she assumes an old, maybe Celtic town could lie buried beneath its slopes). I also thought of the passage of her speech where she talks about the serious consequences of showing disregard of or even decrying the feelings, actions, and language especially of young people. And in her most recent book, I found the words "Once I was searching, yes, I was searching for love in the movies. And the kiss that would never end, the eternal kiss. And at church in the mornings, and at the movies in the afternoons. / I was searching, yes, once I was searching, maybe even for life. But I think I was only searching for the distance from home. The distance from prohibition".
German Philosopher Peter Sloterdijk wrote: "For someone who really sees, the eye is an ear of light".
With the reconciliation after 35 years in mind, amidst all the pain and laments, I wanted to create a reminder of the living spirit of love.
Michael Pilz,
Vienna,
September 2004
Brigitte Schwaiger, 6 April, 1949 – 26 July, 2010
»

Additional articles, reviews & photo galleries (pdf, 570Kb)
Original title 28 April 1995 Aus Liebe / For Love
English title 28 April 1995 Aus Liebe / For Love
Produced by Michael Pilz
Realized by Michael Pilz
Cinematography by Michael Pilz
Original sound by Michael Pilz
Featuring Brigitte Schwaiger, Michael
Austria 2004
Original language German
No subtitles
Copyright by Michael Pilz Film
A-1180 Vienna/Austria
Teschnergasse 37
Phone +43.699.11336581