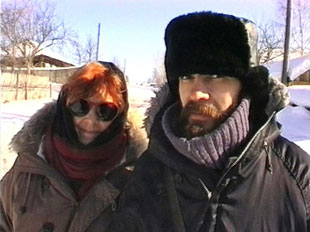 Let's Sit Down Before We Leave
Prisyadim Na Dorozhku
627 minutes, VHS + DV, 4:3, colour, PAL
While I am sitting still and doing nothing, spring is
coming and the grass is growing.
Zenrin Kushu
Prisyadim na dorozhku is a film for meditation – about people and things far away and close by, about the unfamiliar and the familiar, a winter's journey, images and how they are formed. About listening and looking closely.
About time and illusion, the exterior and the interior, the ephemeral and the present. About that which is cheerful or arduous, about slowness. About accidental and purposeful glances that provide us with sudden insights.
About love. About waiting until the images themselves speak to us. About depictions and reality. About light, twilight and shadows. Stillness. About childhood, aging, work, money.
About the cinema. Looking inside ourselves. Thinking in pictures. About fire. About death. About Masha's radiant eyes, Rudolf's weariness, Volodya's stubbornness, about Robert Frank's truth. About film editing and montage. About Tanya's gentleness, Van Gogh's café, Pyotr's cigarette, Bertien's always being in a hurry. The Gulag Archipel. Vodka, Chekhov, dreams, about the sunlight playing on Sergey's cheek. About matters of how and what.
Michael Pilz, Vienna, October 1995
Prisyadim na dorozhku is indeed real cinema (and not too many filmmakers can do it nowadays) and includes some beautiful images.
Mario Simondi,
Festival dei Popoli, Firenze, Italy,
23 October 1995
»

Additional articles, reviews & photo galleries (pdf, 460Kb)
Original title Prisyadim Na Dorozhku
English title Let's Sit Down Before We Leave
Produced by Michael Pilz
Concept and realization by Michael Pilz
Cinematography by Michael Pilz
Original sound by Michael Pilz
Music by Szemzö Tibor
Edited by Michael Pilz
Featuring Bertien van Manen, Volodya Sjabankov, a.o.
Austria 1995
Dialogues English, Russian, Dutch, German
No subtitles
First public screening December 1995, Festival of Austrian Films, Salzburg
Festivals Salzburg (AT), Rotterdam (NL), Riga (LV), Paris (FR), Montréal (CA), Vienna (AT)
Copyright by Michael Pilz Film
A-1180 Vienna/Austria
Teschnergasse 37
Phone +43.699.11336581