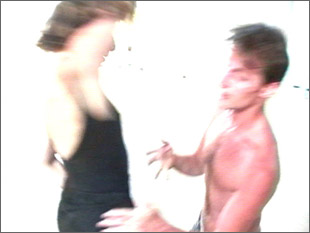 State of Grace
98 minutes, BetaSP, 4:3, colour, PAL
In August 1992 we met for a four-week international symposion on dance, music and film. As a result the video State of Grace is a cinematic attempt to a maximum of exertion and a maximum of relaxation basing on the thoughts – among others – by John Cage and Chuang Tzu.
Michael Pilz
It was just a beautiful memory to me, it was something like I built up together with fifty more people and then also what we did with the girl, it had a very nice atmosphere, just really the air stopped, I didn't do it for them but more I have taken their energies into me to do something together like if you make contact with somebody and you don't know where it will lead, your movement goes somewhere, and it worked very well and then I walked out and the game was going on and I lost this feeling and from that point on when I lost it, it was not so interesting, my wife told me.
– Your wife?
Yes, she told me at the beginning it was so solid, the atmosphere and the air in the room that you could really have cut it and she saw that, my God, what will happen here till the end if it goes on like this, she was really afraid at a point that it would really go too far maybe, because
it is so –, and then I lost, I just forgot when I entered again, when I went out maybe this experience to me was too much, I forgot about going on with it, it was just somehow, a satisfaction, I should go home instead of running the whole.
– Maybe you should not have been so satisfied.
Yeah, but how can you do that? Yes you should get a lot of satisfaction during the work and then you are not so surprised when there is satisfaction at the performance.
Ferenc Kálmán,
in dialogue with Raffaella Giordano,
from the video State of Grace
»

Additional articles, reviews & photo galleries (pdf, 584Kb)
Original title State of Grace
English title State of Grace
Produced by Michael Pilz
Concept and realization by Michael Pilz
Cinematography by Michael Pilz
Original sound by Michael Pilz
Edited by Michael Pilz
Music by John Cage, Claude Debussy, Arvo Pärt, Domenico Scarlatti, Giacinto Scelsi
Piano Cecilia Li
Featuring Alessandra Palma di Cesnola, Linda Forsman, Raffaela Giordano, Ruth Golic, Christophe Haleb, István Horváth, Dorothea Hübner, Ferenc Kálmán, Barbara Kryslova, Joel Luecht, Sebastian Prantl, Giorgio Rossi, Beverly Sandwith, Miklos Visontai
Symposium's concept by Sebastian Prantl (dance), Cecilia Li (music), Michael Pilz (film)
Austria 1993
Language English, German, Italian, Hungarian
English subtitles
First public screening 27 April 1993, Medienwerkstatt Wien
Festivals Salzburg (AT), Frankfurt a.M. (DE), Vienna (AT), Riga (LV)
Copyright by Michael Pilz Film
A-1180 Vienna/Austria
Teschnergasse 37
Phone +43.699.11336581