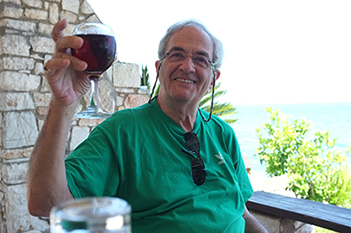 Meeting in Petalidi
Video, 54 minutes
DCP, 16:9, colour, stereo
Dedicated to Roula and Angelos Dimitriadis
Summer vacations at the sea in Petalidi, staying with my dear friend photographer Angelos Dimitriadis and his wife Stavroula.
Two elderly gentlemen philosophizing into the sunny afternoon; musing calmly, cheerfully, knowledgeably about their work with images, with photographic and cinematic methods, and whatever else was on their minds; while close by, old and young went swimming, or splashed about, in the shallow waters at the beach; and in the evenings, the lights of Kalamata beckoned in the distance.
Angelos passed away in March, 2023.
Michael Pilz
Original title Meeting in Petalidi
Produced by Michael Pilz
Shooting time 2018
Shooting locations Petalidi, Peloponnes
Cinematography by Michael Pilz
Original Sound by Michael Pilz
Original language Greek, German
Intentionally no subtitles
Edited by Michael Pilz

Austria 2023
First public screening Austrian Filmmuseum, 25th May, 2023
Distribution by Michael Pilz Film
A-1180 Vienna/Austria
Teschnergasse 37
Phone +43.699.11336581