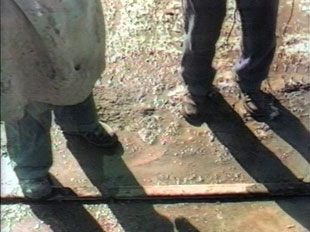 Watercourse Way
Der Lauf des Wassers
44 minutes, video 1"-C, colour, 4:3
Crachez sur votre raison!
Konstantin Brancusi
We have the chance to associate with matter.
Karl Prantl
Karl Prantl, born in 1923 in Austria, is one of the leading abstract sculptors. In 1957 he founded the International Symposion for Sculptors.
We meet him on a train and in a quarry in Eastern Tyrol, Austria, in the snowy March of the year 1987, when he and a sensitive workman are looking and waiting to discover some huge dark green rocks (…).
Karl Prantl's friend, the quarry-worker, on working with stone: "You must see, you must see it, then it is simply there, because if you don't see it, you might chop it off!"
I was not interested in filming a portrait of the sculptor. It was the idea of working with video and film in the way Karl Prantl does with stone, in an attempt to approach his philosophy of life and art.
In 1986 we began a dialogue between the two very different kinds of art, sculpture and film, which has led to this video and to a 16mm-film of 115 minutes, 80cm 5t.
Der Lauf des Wassers (Watercourse Way) means to act without force and to move in harmony with the flowing course of nature, it also means law or the universal way. In terms of making films it means to be here and now, twenty-five times a second.
Modern art gives birth to ideas, it doesn't represent them. That means, real art arises intuitively, there is no preconceived idea. Because real art is the reason itself and cannot be explained at all (Konstantin Brancusi).
Michael Pilz
RECOLLECTING
"It's beautiful to be able to take part in these processes of change out there, that these brown fields are suddenly coming alive again and you just know that in a fortnight it's all going to bloom out there, that's exciting!"
Karl Prantl,
dialogue from the video Watercourse Way
»

Additional articles, reviews & photo galleries (pdf, 544Kb)
Original title Der Lauf des Wassers
English title Watercourse Way
Produced by Michael Pilz
Concept and realization by Michael Pilz
Cinematography by Michael Pilz
Original sound by Othmar Schmiderer
Edited by Michael Pilz
Austria 1988
Language German (Ch 1), english dub voice (Ch 2)
First public screening on TV 31 July, 1988, Südwestfunk Baden-Baden/Germany
Festivals Wels (AT)
Copyright by Michael Pilz Film
A-1180 Vienna/Austria
Teschnergasse 37
Phone +43.699.11336581