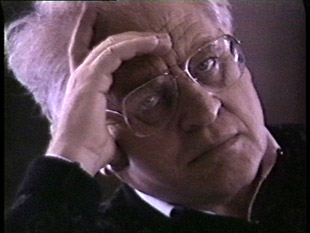 That's All There Is
Part 1 – 151 minutes
Part 2 – 142 minutes
BetaSP, 4:3, colour, PAL
September 1988.
George Tabori's theater Der Kreis in Vienna.
Rehearsals of three late plays by Samuel Beckett.
The director: Jack Garfein.
Over a period of six weeks, I film his work with the actors.
16 years later, I edit the film and opt for the rehearsals of Ohio Impromptu.
Life or death. I will go on.
Michael Pilz, Vienna, November 2004
»

Additional articles, reviews & photo galleries (pdf, 1,6Mb)
Original title That's All There Is
English title That's All There Is
Produced by Michael Pilz
Realized by Michael Pilz
Cinematography by Michael Pilz
Original sound by Michael Pilz
Featuring Jack Grafein, Klaus Fischer, Rainer Frieb, Fritz von Friedl, Ursula Höpfner, Detlef Jakobsen, Uta Brinksmeier, Lena Deinhardstein
Edited by Michael Pilz
Austria 2005
Language English, German
English subtitles
First public screening 26 March, 2006, Graz, Styria, Diagonale, Festival of Austrian Films
Festivals Graz (AT), Amsterdam (NL), Antwerp (BE)
Copyright by Michael Pilz Film
A-1180 Vienna/Austria
Teschnergasse 37
Phone +43.699.11336581